Month #10, Meteora, Thessaly.
Wow. Not only is this place otherworldly, I have seriously wanted to come here since my very first visit to an Orthodox monastery.  That was 1991 in Amorgos, I was traveling with a couple of guys I met on the boat to Naxos and one of them was from New Zealand—Brett D'Acourt (I'm surprised I remember his full name…he was very spiritual and also a good letter writer!).  I wanted to visit untouristed Amorgos for a few reasons, but primarily to see this spectacular cliff monastery I read about.
After hanging around Naxos together for a few days, Brett and Nick (Dutch guy) were also pretty keen to join the adventure so we hopped on the next boat.  I think we arrived late afternoon, and at that time Amorgos wasn't like other islands I visited, where touts came to meet the boats and whisk you away to cheap rooms. There was no one named Kostas waiting for us at the port holding a sign with "Aegean Village" or "Rooms Voula" on it.  Actually there very few people around at all, so we just went to the first taverna, pointed to an octopus the owner probably just beat the crap out earlier that day and grilled it up for our dinner.  After we ate, I mimed the international sign for sleep and then someone's yiayia just showed up out of nowhere and brought us up to her roof.  There were some mattresses with blankets and pillows and she charged us the equivalent of $1 to sleep there under the constellations that fueled so many myths.  It was almost as great as Easter Eve on Naxos when we couldn't find a place to stay so we all just slept under a tree on a beach.  Magic.  Ahhhh, the good old days.  Now I just look up apartments on airbnb and harass my soon-to-be hosts about the speed of their wifi.
The next morning we immediately hiked up to the dramatic whitewashed Monastery of Hozoviotissa. Built into the side of a mountain in the late 11th century, it is one of the oldest Orthodox monasteries in Greece. I was excited to visit and vividly remember the strange interaction.  First we had to cover ourselves in dusty black frocks in order to enter or visit with one of the resident monks or priests. Then we were brought into a room where a man I assumed was a priest was reclining on a bed, who then summoned a very young woman I assumed was a habitless nun.  She entered with a tray and served the priest and us raki and turkish delights and was silent as he spoke to us rapidly in Greek, and waved his arms around rather wildly given his prostrate position.  I remember being very confused about the whole thing.  Who was the girl and why were we doing shots and eating these perfume jelly candy things with this holy dude? Anyway, Brett told me he was heading to Meteora and Mount Athos to check out these amazing monasteries built into rocks that women weren't allowed to visit, so of course that just made me want to go more.  And on that very same trip, after parting ways with Brett and Nick, I met another guy on the boat from Rhodes who had just been to Meteora—John from Minnesota, a poet in seminary school.  Also a good letter writer.  I just can't believe it took me 29 years to get here!
Anyway, I did not mean to go on that nostalgic tangent, but I am very excited to finally be somewhere I've wanted to go for so long and never got around to visiting.  So let's fast forward to the present!  Okay, yesterday, after circumnavigating the train station a few times, I finally got to the hotel and Dita, the very sweet owner of the Monastiri Guesthouse, gave us the most wonderful "map" of the area. I love it and I'm keeping it forever. At first glance, it made me think I might be able to visit at least one or two of the 6 monasteries before dinner!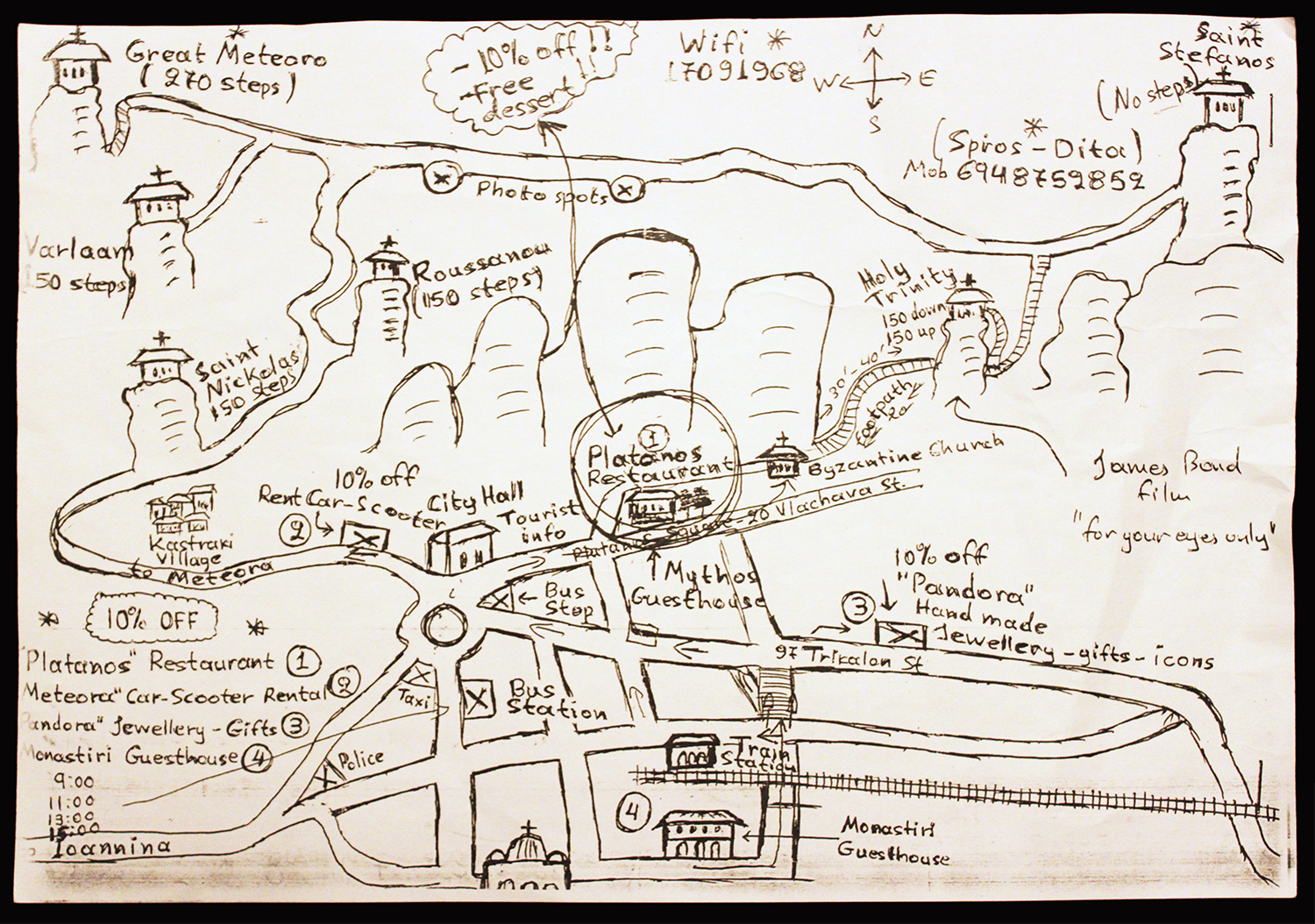 Now this is my kind of map.  It has everything I need to process directions and successfully plan and navigate through a new place:
Questionable distances. I like when every place looks like it's an inch or two away from the next place. It gives me a false sense of confidence that I can easily and quickly walk from one place to another, and makes me feel invincible.
Cartoon line drawings of landmarks and monuments.  I am very receptive to this approach to cartography because it gives me the ability to visualize myself in the map while I hold it in the direction I am walking, which is usually north.
Arrows.  What can I say, I'm a sucker for arrows.
Very. Practical. Information. How many steps I have to climb, the amount of time it will take to walk from point A to point B, movie references, food discounts and free stuff…what else does anyone need to know?
Bus times!  Now this is a first.  And the added bonus of an arrow pointing FROM the bus times TO the bus stop!  Genius.
Emergency phone number!!  Every map should have the phone number of someone you can call if you get lost.
A compass!!!  So if I get lost I can call them and say I'm somewhere west of St. Stefanos and east of the wifi password.
It was already almost 3 pm when I headed out and armed with the realization that nothing really was an inch away from me, I just went on a fantastic walk to, through and a little beyond Kastraki.
I wanted to see if I could get into St. Nikolaos before closing time and Dita told me about a footpath on the way that passed a ruined monastery dedicated to St. George.  Built in the 14th C, only the chapel in this cliff cave survives, but it is the location of a miracle.
According to a local legend from the 17th C,  Ayios Giorgos the "Mandilas" (handkerchiefs in Greek) is where a Turkish woman dispatched a prayer and her veil with a local from Kastraki, to climb up to the ruin to hang it on the altar in exchange for the saint to revive her dying husband.  Every year since, on April 23rd, the name day of St. George, villagers who want to ask the saint for good health or something else like "fortunate marriages", tie their handkerchief to the adventurous young women and men from Kastraki who then climb the steep cliff face to replace the previous year's handkerchiefs with new ones.  I found a good blog post with photos and interesting background about the celebration, http://eu.camperistas.com/1676/kastraki-st-george.  I truly love these wonderful traditions, they reinforce all that I adore about Greece, a land steeped in myth and legend and wonder and hope.
I was really hungry and thirsty after all that meandering so I headed back to Kalambaka and grabbed a quick snack at an adorable local taverna I saw on my way out.  To Paramithi on the road to Kastraki, past the main square, was exactly what I wanted.  I ordered some yummy fried anchovies and an ice cold Mythos thinking about what I might eat later for my real dinner and to read up a bit more on visiting the monasteries.
Walking back through town to my hotel, I saw what looked like an outdoor concert set up around a small table full of funky mushrooms.  What the what?  I had very little room left on my SD card from all the 500 monk bucket shots I took but got some fun shots between my camera and my phone of a very weird mushroom festival.  When I first rolled into town, I saw a sign for a mushroom museum and thought, "I need to go there!" but had already kind forgot about it.  And now, this?  Apparently there is a not-so-secret mushroom society here. And there seems to be an annual multi-day mushroom extravaganza where many many mushrooms are consumed by locals and unsuspecting tourists in various cooked forms—stews, soups, mixed with pasta, grilled. With bread and dessert.  All free!  There must be some mushroom-loving millionaire that funds this thing.  I mean how much can a mushroom society raise?
This is a freakin' long post, and I haven't even gotten to the monasteries! Avrio, avrio.